Beijing Workers Club Location • Legend of Jinsha
The Beijing Workers' Club is located in the Xicheng district of Beijing. Just 2 kilometers from the Tiananmen Square, close to old Beijing quarters and a vibrant theatre show scene — it is also easily accessible by Beijing metro.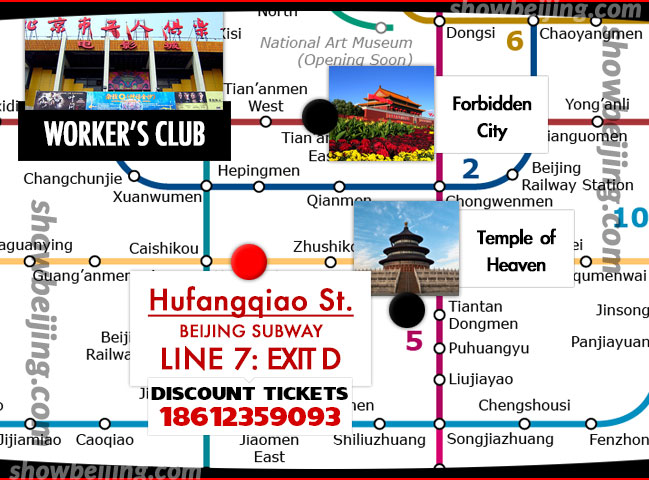 Hufangqiao Station on Subway Line 7 is close to the Beijing Workers Club! Take Exit D which is a 5-10 minute walk to the venue.
---
We advice visitors to reserve plenty of time, especially when coming by taxi. Taxies are often difficult to find and for this reason we recommend using the subway. Please take down our phone number and call us if you cant find the venue!
Please note that the front of the theatre can be filled with tourist busses, making the theater less visible -- the entrance is just behind them.
• Theater: Beijing Workers' Club (北京工人俱乐部)
• Show: Legend of Jinsha (神话金沙)
• Times: 3:50PM - 4:50PM & 5:30PM - 6:30PM (Daily)
---
• Address: 7 Hufang Road, Xicheng District, Beijing
• Metro Line 7: Hufangqiao Station: Exit D (虎坊桥)
• Chinese Address: 北京市西城区虎坊路7号